On mission in our community
Michele Bassi, Board Chair
1st Capital Bank
Michele Bassi has been in the banking industry for almost 30 years. Previously with Wells Fargo Bank and then Lighthouse Bank, Michele recently made the move to 1st Capital Bank as their Senior Vice President/Managing Director of the Santa Cruz Market. In addition to her work with Second Harvests, she is also the incoming Board Chair of Santa Cruz County Fairgrounds Foundation, Board Member of Cabrillo College Foundation, Past President and Board Member of Capitola Aptos Rotary, Founding Friend of Meals on Wheels, and Founding Friend of Walnut Avenue Family and Women's Center. These, and many other volunteer activities, earned Michele the Woman of the Year award for the Aptos Chamber of Commerce in 2018 and the Be The Difference Award from the Volunteer Center in 2019.
Andrea Carlos Willy, Vice Chair
Pajaro Valley Unified School District
Andrea Carlos Willy's personal and professional life has been dedicated to facilitating positive changes in health and education domains that support fragile populations and future generations. Her largely non-profit work experience has spanned the fields of human rights, bioethics, education and healthcare. Andrea is currently the District Grant Writer for Pajaro Valley Unified School District. As an active community volunteer she serves on the boards of both the MAIA Foundation and CASA of Santa Cruz County. Over the past two years she has been a member of Second Harvest's Pajaro Valley Engagement Committee. Andrea looks forward to sharing her professional skills and passion for equity to further the important work of Second Harvest. Her family roots in Watsonville date back to the mid 1800s.
Kristin Fabos, Vice Chair
Cabrillo College
Kristin Fabos is the Director of Marketing & Communications at Cabrillo College, where she has led the marketing, communications, public relations, community relations, and government relations activities of the college since 2010. She has 25 years of management and marketing experience spanning both corporate and nonprofit sectors. Prior to Cabrillo, she was the Executive Director of SeniorNet, a national nonprofit technology educator of older adults. Locally, she is an active community volunteer who serves on the Boards of the Santa Cruz County Business Council and Leadership Santa Cruz County.
Matt Huffaker, Treasurer
City of Santa Cruz
Matt Huffaker serves as the City Manager for the City of Santa Cruz. Prior to Santa Cruz, Matt served the City of Watsonville for 5 years, the city of Walnut Creek for 10 years in a variety of roles, including Deputy City Manager. Matt brings over 15 years of public administration experience to his work at Second Harvest, and has a passion for public service and building healthy communities.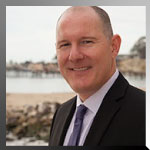 Cameron Haste, Corporate Secretary
Bay Federal Credit Union
Cameron Haste is the Executive Vice President and Chief Operations Officer of Bay Federal Credit Union, the largest locally owned financial institution in Santa Cruz, San Benito, and Monterey Counties. Cameron fosters a strategic, creative, and collaborative work environment in order to achieve financial results, in guiding the credit union's award-winning service to members, and engagement in the community at large. Cameron is active in the community and supports a number of causes focusing on youth engagement, education, social services, and diversity and inclusion. He serves as the President of the San Lorenzo Valley Rotary Club, Board Chair of Hope Services, and serves on the Measure O Bond Oversight Committee. He is a current participant in Leadership Monterey County. Cameron holds a bachelor's degree in International Business from California State University, Dominguez Hills.

Cameron enjoys adventure travel experiences and spending time with his husband and their children.
Bob Norton, Past Board Chair
Community Member
Bob Norton served on the Aptos Chamber Board for ten years and Above the Line for eight years. He has extensive management and organizational experience in nearly every aspect of the grocery industry and a strong desire to give back to the community. Bob is a part of the fabric of the food bank.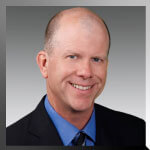 Paul A. Carlson
HP
Paul joined HP (previously named Plantronics) in Santa Cruz in October 2016 as Associate General Counsel and is responsible for a variety of legal areas and strategic initiatives. Before joining HP, he was Deputy General Counsel at Seagate Technology where he led a team of lawyers and legal staff for Seagate's cloud systems group. As a resident of Aptos and Santa Cruz County for the past 12 years, Paul is active in local organizations, including Second Harvest, where he is a member of the Finance Committee. Paul enjoys training for and participating in triathlons as a member of the Santa Cruz Triathlon Association in his free time.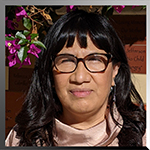 Silvia Diaz
City of Watsonville
Silvia has over 22 years of experience working for non-profits. Throughout her career, Silvia has worked in agencies that work to improve the quality of life of the residents in her community. She was the Finance Manager for the Legal Aid Society and the CFO for Pajaro Valley Prevention and Student Assistance and currently works as Senior Financial Analyst with the City of Watsonville.

Silvia has served in many local organizations, including the Women's Crisis Support, The Measure L Bond Oversight Committee, and the City of Watsonville Personnel Commission. She is honored to serve on the Board of Trustees of an organization that brings essential services to the community.
Karina Diaz Alvarez
UCSC Undergraduate
Karina Diaz Alvarez is an undergraduate student at the University of California, Santa Cruz (UCSC). She is double-majoring in Psychology and Legal Studies, with a minor in Global Information and Social Enterprise Studies. Being a first-generation student with Latinx roots, she has entered higher education offering her own unique perspectives with the goal of using what she learns to fight against social justice issues surrounding mass incarceration, immigration reform, and mental health. During her time at UCSC, Karina, has been involved with numerous projects - from leading a workshop on transformative justice to analyzing food insecurity in the Santa Cruz Country through focus groups. Karina looks forward to continuing her social activism endeavors beyond UCSC with an emphasis on mental health and legal justice.
Tracy MacKenna
Gensler
Tracy's community and professional work is committed to new ideas that will broaden awareness and assist organizations through current and future development phases. She currently serves as Immediate Past President of the Board of Directors for Walnut Avenue Family & Women's Center. She previously served as Chair of the Commission for the Prevention of Violence Against Women in Santa Cruz in addition to twenty years of community stewardship and Board leadership for local and regional nonprofit and advocacy organizations.
Laurie Negro
Betty Burger
A local entrepreneur with a background in mergers and acquisitions, Laurie Negro is the founder and owner of several businesses, including Betty Burger and Gemma Shoes. Her involvement in the community includes serving as a youth mentor, supporting the development and expansion of local businesses, and volunteering with Second Harvest. Laurie is a native of Santa Cruz, where her family's roots go back more than 100 years.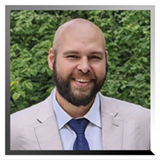 Alexander Pedersen
Santa Cruz Small Business Development Center
Alexander Pedersen is a dedicated community leader and small business advocate, currently serving as the Interim Director of the Santa Cruz Small Business Development Center (SBDC) and a City Council Member of Capitola. With a diverse background in small business development, economic growth, and community leadership, Alexander is committed to addressing the needs of Santa Cruz County and fostering a thriving, inclusive community. Outside of his professional life, Alexander is an active volunteer in his community, serving on the board of directors for several nonprofit organizations and is dedicated to promoting community wellness through leadership and economic development. In his free time, Alexander enjoys engaging in community activities, travel, and outdoor sports.
Cesario Ruiz
My Mom's Mole
Cesario created My Mom's Mole in 2013 as a retail product for specialty markets. The brand has since grown rapidly to incorporate catering events, foodservice, and education into its business model.

Cesario currently manages a non-profit organization based in Watsonville that offers no-cost technical assistance to local entrepreneurs developing their own food products and brands. He believes fundamentally that the best way to create stronger connections between people is to share anything you excel at - pay it forward.